Local search engine opti­miza­tion (SEO) is a spe­cial­ized form of SEO focused on opti­miz­ing busi­ness­es and their web­sites for opti­mal vis­i­bil­i­ty in local search engines.
Local search takes into con­sid­er­a­tion not only the key­word the searcher entered, but also the loca­tion of the searcher, whether indi­cat­ed through user set­tings, auto­mat­ic detec­tion, or a loca­tion in the key­word phrase (e.g. "Best Restau­rants in Dal­las, TX").
Google, Bing, and Yahoo! all pro­vide local search capa­bil­i­ties. Here is an exam­ple of the famil­iar Google local search results: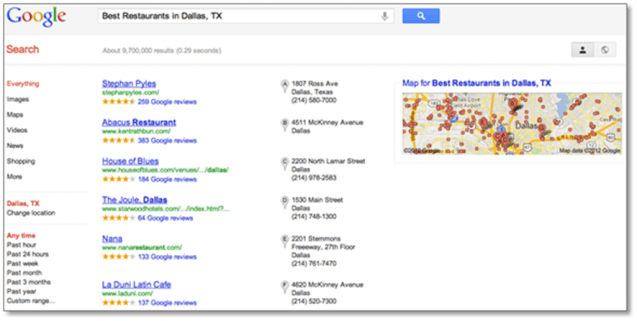 Local search has some sim­i­lar­i­ties to tra­di­tion­al SEO (focused on rank­ing for a giv­en key­word), but includes a lot of activ­i­ties not applic­a­ble to glob­al SEO. It can be dif­fi­cult to know where to start!
For­tu­nate­ly, there are many great local SEO resources avail­able – for free – on the Inter­net. Here are five that I find help­ful:
1) Local Search Ranking Factors
Have you ever won­dered what Google (and the oth­er search engines) con­sid­er when rank­ing local busi­ness­es in the local search results? Is it the num­ber of reviews? Is it the num­ber of images and videos? Is it the author­i­ty of your web­site for the giv­en key­word?
Thanks to David Mihm, a Local SEO guru, you don't have to won­der (as much…). Every year, he inter­views dozens of experts in the field to com­pile his Local Search Rank­ing Fac­tors report.
It is awe­some!
For the best part, scroll down to "The Results." There you will find the top ten rank­ing fac­tors for local search.
Sidebar
Take a look at #2: "Man­u­al­ly Own­er-ver­i­fied Place Page." I can't tell you how many busi­ness­es I've worked with that have not yet tak­en this sim­ple step. If you haven't claimed your Google Place page, please do so as soon as you fin­ish read­ing this post!
Here is a help­ful video about adding a Google busi­ness list­ing if you want some guid­ance.
2) Comprehensive List of Local Search Directories (or "Yellow Pages")
One of the fac­tors that deter­mine your rank­ing in local search results is the num­ber of "cita­tions" avail­able for your busi­ness around the Inter­net. Adding your busi­ness to local search direc­to­ries is a great way to rack up on cita­tions (and also improves your chances of get­ting new traf­fic!).
Andrew Shot­land of Local SEO Guide has com­piled a com­pre­hen­sive list of local search direc­to­ries (he calls them "Inter­net Yel­low Pages").
The Local SEO Guide blog is one of the first resources I used to learn about local SEO. Shot­land is an expert in the field and has been at it for a long time. He knows his stuff!
3) Understanding Google Places
&

Local Search

Anoth­er great local SEO resource is Mike Blumenthal's won­der­ful local search blog, which is geared toward keep­ing the rest of us up to speed on the devel­op­ments of local search.

Mike writes about local search news, Google Places (and oth­er relat­ed Google top­ics), and Yahoo! local. He also address­es top­ics relat­ed to local & mobile and local & social. (To name few!)

Best of all, Mike responds to com­ments and ques­tions (what a con­cept, right!). If you don't under­stand some­thing he's writ­ing about or want to dis­cuss the top­ic fur­ther, he'll take the time to dis­cuss it with you.

Very acces­si­ble. Very friend­ly. Very local.
4) GetListed.org
Isn't it amaz­ing that there are orga­ni­za­tions who care enough about you to put lots of time and effort into pro­vid­ing tools, resources, and live train­ing ses­sions to help you grow your busi­ness?
GetListed.org is one such orga­ni­za­tion.
On their web­site, you can enter your busi­ness to see how well (or poor­ly) it is fair­ing in the local SEO world: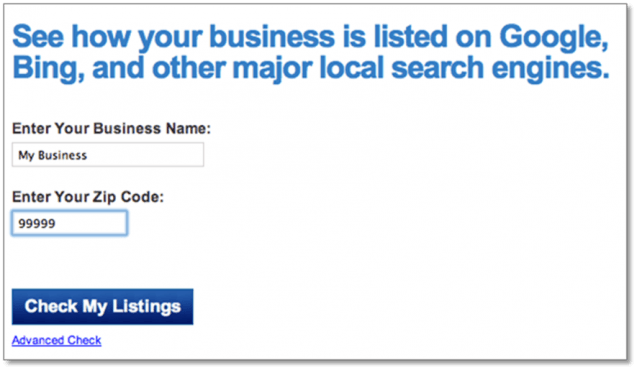 It's a great tool and the web­site has a nice, clean inter­face.
Addi­tion­al­ly, GetListed.org has all sorts of resources, includ­ing their Local Uni­ver­si­ty. They have sev­er­al ses­sions com­ing up this spring, so make sure to check their list of upcom­ing events.
5) A Step-by-Step Guide to Local Search
In work­ing with small busi­ness­es on local SEO, I have devel­oped a process that I use to opti­mize a busi­ness for local search.
One day, I decid­ed to lay it all out in a post on our blog.
Why?
Because I know that some busi­ness­es can­not afford to hire a con­sul­tant to do the job for them. And per­haps some small busi­ness own­ers find this type of work sat­is­fy­ing (I know I do!).
In this Local Search Guide, I walk through the process of opti­miz­ing your busi­ness for local search.
I believe it is the most com­pre­hen­sive local search guide avail­able free online.
Please don't lose traf­fic (both to your web­site and your store/restaurant/office) because you haven't tak­en the take to opti­mize your busi­ness for the local search engines. It would break my heart.
http://www.searchenginejournal.com/5‑local-resources-to-boost-your-local-rankings/43675/
You May Also Like